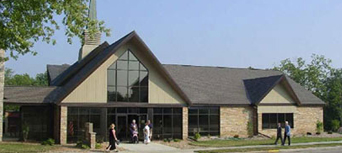 IMPORTANT NOTICE: Worship times in the church building (Sundays at 8:15 a.m. & 10:30 a.m., as well as Wednesday Lenten services), have been cancelled until further notice. As you all know the situation with Coronavirus (COVID-19) continues to change quickly. Pastor Jared and the church Council are responding with caution and compassion. We are relying on advice from government agencies, our synod, and the Wisconsin Council of Churches.
Pastor Jared and the church Council have decided to cancel public worship gatherings at the church building through at least March 22nd. Our hope is that we can assess the severity of the virus and take precautions that will minimize its impact in our faith community. We will be recording the Sunday sermons and Lenten Messages and posting them on our Facebook Page Videos. https://www.facebook.com/immanuelmh
About Immanuel Lutheran Church
The name Immanuel means "God with us". We believe God is present in our daily lives. We strive to live out our mission "To know Christ and to Make Christ Known". We are part of the ELCA (Evangelical Lutheran Church in America). Immanuel is a faith community that is welcoming, open and laid back. Come worship with us, we'd love to meet you.